Newsletter Contents
Spring 2004
Spring 2004
City Representatives
Extend the Park Boundary
DNR Lake #52-0001
Lake VS Pond
Public Acess
Blanding's Turtle
Public Acess
ALERT! ACTION NEEDED!
---
Upcoming Events
Sun. June 13th 2004. 9am-1pm.
The Spring 2004 Lakeshore Cleanup. Association meeting follows. Snacks & water provided. Non-members welcome.
Aug. 4-8, 2004 (Wed-Sun)
Nicollett Country Fair.
Fall 2004 volunteers needed for the LHA information booth. Volunteer time for the entire event.
Sat.-Sun. Sept. 11-12, 2004
Rockbend Folk Festival.
Fall 2004 volunteers needed for the LHA information booth. Volunteer time for both days.
---
Photo Gallery

Bernhard Bornheiden & Marty McCabe go icefishing on Lake Hallett

Gustavus Students having a canoe class on Lake Hallett

Tony Kellar and son TJ fish for the big ones on Lake Hallett!

TJ Barnes, Marty McCabe and Zach Levine snorkel in the clear waters of Lake Hallett

Lindsey Leross, Julie Dupuis & Steve Tolzmann go rowing on Lake Hallett

Lakehallett.com gets hits from all over the world! This is the hit chart from May 19, 2004. LHA averages over 4 hits/day!
---
Associaton Dues
Yearly memberships are due!
Members or new members please donate $5.00 to:
Lake Hallett Association
302 St. Julien St.
St. Peter, MN 56082
---
Free Music

Free music courtesy City Mouse
Moonlight Baby
Children Go Where I Send Thee
Smile All Over
Moonlight Baby w/Symphony Orchesta.
More about City Mouse...
---
Past Events

Lake Shore Cleanup - July 2003

Nicollet Cty Fair - Aug 2003
256K Broadband Speed
100K Normal Speed
56K Dialup Speed.
---
Newsletter Archive
Current Newsletter
Fall 2003 Newsletter
Summer 2003 Newsletter
---

Newsletter Feb 2001.
Lake Hallett Association Newsletter
Spring 2004
PLEASE!
Take Advantage of the
Public Access to Lake Hallett.
The city is proposing a 30-foot wide strip park
surrounding the lakeshore
(violating all state guidelines for maintaining water quality)
additionally tearing down our precious tree resource
to set in a five-minute long bike trail!
We could have so much more!

This proposed park is clearly marked. If you are
standing between the lakeshore and posts marked "property boundary"
or topped with orange paint you are in the proposed park.
The property that could be acquired is all the property from
the posts West and South to the streets.
Take your kids, your dog, your friends, and your spouse
Look at the possibilities for yourself, your family and
our community. This is an incredible opportunity
for a park that most communities would be clamoring for!
We are THE ONLY community in the Western Corn Belt Plains Eco-region who can boast THE CLEANEST LAKE IN THIS REGION!
If you care about Our Lake Hallett and would like to see the possibility of a unique city park become a reality, you must speak up because once it's gone, it's gone forever.
Please call or write your City Representatives Today:
CITY ADMINISTRATOR
Todd Prafke
1746 Riggs Road
St. Peter, MN 56082
MAYOR
Jerry Hawbaker
934-6169
525 Sioux Lane
St. Peter, MN 56082
CITY COUNCIL MEMBERS
Ward I
North of Broadway Avenue
WARD II
South of Broadway Avenue
Mary Gover
507-934-1895
838 Lower Johnson Circle
St. Peter, MN 56082
John Kvamme
507-931-3761
402 S. Washington
St. Peter, MN 56082
Joel Brinker
507-934-0183
520 North 3rd St.
St. Peter, MN 56082
Jerry Pfieffer
507-931-2569
1655 S. 4th St
St. Peter, MN 56082
Ken Douglas
507-931-3397
1011 Willow Drive
St. Peter, MN 56082
Tim Strand
1413 Winona St
St. Peter, MN 56082
---
Extend the Boundary of Our Lake Hallett Park!
The boundary of city owned property around the shoreline of Lake Hallett currently extends 30 feet outward from the lake (in blue on map). The city proposes to put a bike trail in that would run within that 30-foot perimeter and as such would violate Best Management Practices (BMPs) and the Minnesota State Shoreland Ordinance, a Minnesota State Law instituted in an effort to protect our shorelines from erosion and pollution from runoff. There is much to this ordinance, but one of its most important elements is a provision for a 30 foot "buffer" that includes trees and native vegetation. A buffer such as this has been proven to be an easy, inexpensive and effective method to preserve lake water quality by reducing runoff. Lake Hallett has an effective buffer now, but if the proposed plan for a trail within the buffer is approved, current vegetation and several of our few remaining trees would have to be removed to accommodate the trail. Clearing of the lakeshore will also be an invitation for problem geese. Because of a loophole in the State Shoreland Ordinance, the City will receive no reprimand for violating it. If the appropriate buffer around Lake Hallett is not preserved, we will all pay the price in reduced water quality as runoff increases, geese become a problem and habitat for other wildlife is destroyed. It also will not leave much room for any other activities besides bike riding.
The City continually talks of acquiring property of homeowners on the North Shore but seems unwilling to consider 16.5 acres of property that has long been available for sale on the East and South sides of the lake (in green on map). Acquisition of the East and South side property would enable the city to preserve the buffer zone which would help to protect the water quality of the lake. We could still have a wonderful bike trail full of wildlife once trees and vegetation are planted. Bikers could wend their way around the park while families could still enjoy the safety and quiet of an ample park area. People could fish, swim, relax and not have to worry about dodging bikes in a narrow "Strip Park". We could have a wonderful wildlife habitat right within the City of St. Peter with huge benefit and very little cost to the community.
If the City of St. Peter would demonstrate a willingness to protect the water quality of Lake Hallett, grants are available to help divert storm water away from the lake. It is common knowledge, since before the Clean Water Act of 1972, that storm water pollutes lakes but the St. Peter City Officials refuse to accept this even as our lake clearly begins to show the well-known effects of storm water pollution. One City official recently suggested that the fish are polluting the lake and poisoning the lake to kill all the fish would take care of water quality problems. We are confident the DNR would not support this plan. Once our City government demonstrates that our community wants to protect our Lake, we believe we could also obtain grants for land acquisition, tree planting, and community access.
Lake Hallett: Department of Natural Resources Lake # 52-0001 This is OUR Lake-WE need to take care of it!
As of the 2003 Minnesota Pollution Control Agency Report Lake Hallett was still the cleanest lake in this region. Last summer a rare Blanding's turtle was found on the shore. This species is considered by the Department of Natural Resources to be threatened. For more than half a century this lake has been home to Ducks, Orioles, Cardinals, Blue Herons, Green Herons, Kingfishers and many other bird species. Its waters have teemed with Large-Mouthed Bass, Sunfish, Crappies, Frogs, and Turtles. Loons, Bald Eagles, and even a Great Horned Owl have been spotted here. For more information on Lake Hallett see www.lakehallett.com.
The State of Minnesota recognizes Lake Hallett as the Cleanest Lake in our region. Why do our St. Peter City Representatives refuse to accept Our Lake as a Lake, instead insisting on calling it a Pit or Pond?
Lake VS Pond or Pit What difference does it make?
A Pit or Pond can be owned by anyone but a LAKE belongs to ALL OF US! It is a matter of ownership and protection of water quality. In 1998 the City of St. Peter "purchased" Lake Hallett to use as a storm detention basin and the St. Peter Police Department was instructed to prohibit everyone, including private property owners, from going into the water. If Lake Hallett were a pit or a pond, the City would own it and could prohibit access, but because of its designation as a Lake, it is a protected Public Waters and as such belongs to all of us, NOT the City of St. Peter. This Lake Designation also provides Lake Hallett with limited state protection of the water quality. In 1996 the City of St. Peter, against state storm water rules, increased the amount of storm water entering Lake Hallett from 100 acres to 390 acres and planned to continue to increase the acreage draining into our lake. The Lake Hallett Association has had to fight very long and hard, but only because Lake Hallett is recognized by the state of Minnesota as a lake were we able to make some progress. The City of St. Peter is now required to meet certain conditions and codes to comply with State Law regarding Protected Public Waters. The City is not allowed to add more storm water to Lake Hallett and has been required to build the Gault Street Storm Detention Basin to provide some treatment to the storm water before it is dumped into the lake. The City is also now required to close the storm sewer that drains into Lake Hallett every Spring, but because of flaws in the system are allowed to empty the basin into the lake every winter.
Public Access to OUR Lake Hallett is Open!
Public access to Lake Hallett is currently a bit roundabout (see Map page 3), but at this time the following is the only legal public access to the lake. From Saint Julien Street take either the sidewalk or the road leading into the Waste Water Treatment Plant (between the plant and Mike's Auto Body). The Gault Street Storm Detention Basin will be in front of you and you can park on the tarmac. As you walk straight ahead Lake Hallett will be to your left and the Storm Detention Basin to your right. You will notice a storm sewer pipe sticking into the basin. About 5 feet below this is the storm sewer that is opened to drain the basin into Lake Hallett every winter. Because of the buildup of silt in this basin and the lack of any screens on the storm sewer all the sediment, chemicals, algae and garbage that you see in this basin goes directly into Lake Hallett. Looking into the lake you can easily see the buildup of sediment and silt in front of the storm sewer and probably a considerable amount of algae. We continue to advocate for diversion of the storm water away from Lake Hallett or at the very least the addition of screens and general maintenance of this basin to improve this situation.

The City of St. Peter owns 30 feet of lakeshore (measured from the high water mark) going ¾ of the way around the lake. This is clearly marked by the "property boundary" signposts and the orange topped markers. If you are between the lakeshore and the signs or the posts you are on public property. If you can read the "no swimming" or (in the winter) "thin ice" signs, you are trespassing on private property. Accessing from the south is trespassing! Most of the north shore is also private property. This is readily recognized by the appearance of boats and stairways leading to the shore. Keep in mind in-between these posts is where the city proposes the Lake Hallett Park will be.
Watch for Blanding's Turtles on Lake Hallett!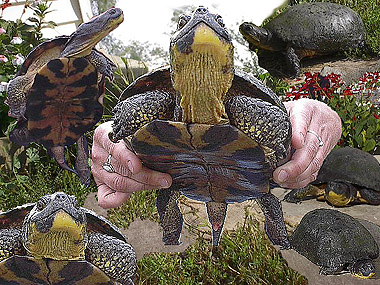 Last fall a rare Blanding's Turtle was found on Lake Hallett. This species of turtle had not been seen in this area for 50 years! The Department of Natural Resources (DNR) was called in to measure and mark the turtle. The male Blanding's turtle measured more than 10 inches and was estimated to be more than 70 years old! These turtles are considered threatened by the DNR. According to Lisa Gelvin-Innvaer, Regional Nongame Wildlife Specialist for the DNR, New Ulm, the DNR is currently studying the Blanding's turtle for habitat and conservation needs in an effort to preserve the species in Minnesota. The public is encouraged to watch for Blanding's turtles in our area, particularly in and around Lake Hallett. This turtle is distinctive in that it has a bright yellow throat and the bottom shell (protecting the underbelly) is actually hinged so that the turtle can close its shell completely to protect its head. If you spot a Blanding's turtle, do not disturb it. Report the sighting to Lisa Galvin-Innvaer at lisa.gelvin-innvaer@dnr.state.mn.us or 507-359-6033. For a video of the Lake Hallett Turtle and more info see www.lakehallett.com.
ALERT! ACTION NEEDED!
Wouldn't it be wonderful if right here in St. Peter we could have a park on OUR LAKE HALLETT – currently the cleanest lake in Southern Minnesota - that would accommodate fishing, swimming, canoeing, kayaking, walking, bird watching, relaxing, picnicking and biking and also have a buffer for wildlife that would help to protect the incredible water quality we now enjoy? This park could easily be the pride and joy of this community and the envy of all others. It is well within our grasp if we can convince our City Representatives that Lake Hallett and the surrounding area is a valuable asset for our community and should be part of the park system.
The present City plan for this area allows for very limited activity as the park will only be 30 feet wide and within this 30 feet will be a bike path (See City Park Plan page 3). There is 16.5 acres of property available to the South and East of Lake Hallett that would make this park a real asset for the entire community, not just a few, and make it possible to protect the shoreline.
At present our City Representatives are not even considering this opportunity!
We are missing out on a chance for a park that would be unequaled by any area park and would better serve all the members of our community.
What a wonderful legacy this could be for the children of our community!
Please Call or Write Your City Council Representatives Today!
Lake Hallett Association
302 St. Julien St.
St. Peter, MN 56082
www.lakehallett.com
The Lake Hallett Association was formed by a group of concerned citizens to protect Lake Hallett in St. Peter. We have brought many government representatives knowledgeable in water quality issues to this area in an attempt to educate local residents and City Representatives about serious concerns pertaining to Lake Hallett. In the last six years, unfortunately, we have been forced into whistle blowing when we have witnessed violations of state laws that have adversely affected Lake Hallett. Our requests to the City Administrator to be kept informed on issues relating to Lake Hallett have been repeatedly ignored. Because of the adversarial stance of the St. Peter City Officials toward the Lake Hallett Association, we feel we are no longer effective in dealing directly with these representatives. We will continue to advocate for Lake Hallett and make sure state laws are enforced, but some matters are in the hands of our city representatives and beyond our control.
Join The Lake Hallett Association
Yearly Membership Dues $5.00
Mail to:
Lake Hallett Association
302 St. Julien St.
St. Peter, MN 56082
Questions? Call Trudi Olmanson 931-6679