Mission Statement
Action Plan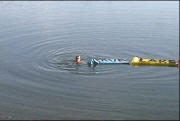 Save Lake Hallett! Learn how!
Lake Hallett Association St. Peter, MN
Mission Statement
The Lake Hallett Association is dedicated to the protection and promotion of Lake Hallett as an environmentally-sound recreational and aesthetic resource for the citizens of the St. Peter Area. Since Lake Hallett is one of the cleanest lakes in southern Minnesota, we believe it is better to enjoy this natural resource as it is now then to degrade it by using it for storm water treatment of St. Peter's industrial and residential runoff. It has become well understood by water resource managers that storm water from agricultural and urban areas has degraded many of our precious water resources (especially in Southern Minnesota). We believe that the citizens of St. Peter will be best served by the local governing body by diversion of the storm water away from lake Hallett. This would be the most cost effective way to maintain the current water quality of Lake Hallett for generations to come. Diversion of the treated storm water could be done relatively easily and would be much less expensive then available lake restoration and maintenance techniques that will be needed if the lake continues to be used for storm water treatment.
Lake Hallett Association, 302 St. Julien St., St. Peter, MN 56082