SPPA Connections-June 2003
100K Normal Speed
56K Dialup Speed.

SPPA "Know Your Community"
100K Normal Speed
56K Dialup Speed.

KARE 11 News - Mystery Barrels
256K Broadband Speed
100K Normal Speed
56K Dialup Speed.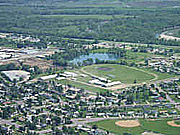 Aerial photo courtesy pilot Theresa Johnson and photographer Jon Smithers.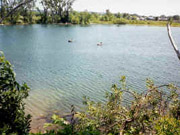 The clear waters of Lake Hallett.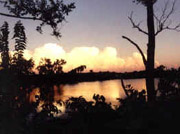 Sunset on Lake Hallett.
---
Home Page Archive
Current Home Page
Fall 2003 - Blanding's Turtle
Summer 2003 - Fish Kill
Welcome to the Lake Hallett Association
St. Peter, MN
Spring 2004. &nbsp Welcome to the Lake Hallett Association home page. Were ready for Spring with the annual Lake Hallett shoreline cleanup. Please read the online newsletter to see whats happening at Lake Hallett.
Blanding's Turtle found on Lake Hallett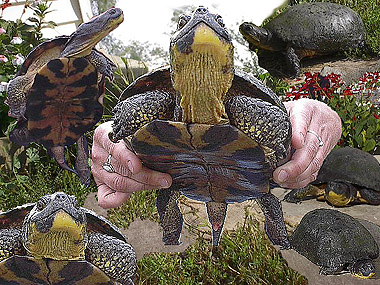 The Blanding's Turtle (Emydoidea blandingii) is classifed as "Threatened" by the Minnesota Dept of Natural Resources This male Blanding's turtle found on Lake Hallett measured more than 10 inches and may be as old as 70 years. An ongoing survey is being conducted by the MN DNR to locate areas where this rare species is found and to seek critical protection of their habitat to ensure it's continued presence in Minnesota. Read and see more...
Check it out!
Lake Hallett is on the NASA website.
NASA site "Testing the Waters".
Commentary and pictures of Lake Hallett on the 2nd page "Plumbing the Depths".
Mission Statement
The Lake Hallett Association is dedicated to the protection and promotion of Lake Hallett as a recreational and aesthetic resource for the citizens of the St. Peter Area. Since Lake Hallett is one of the cleanest lakes in southern Minnesota, we believe it is better to enjoy this natural resource as it is now then to degrade it by using it for storm water treatment of St. Peter's industrial and residential runoff. It has become well understood by water resource managers that storm water from agricultural and urban areas has degraded many of our precious water resources (especially in Southern Minnesota). We believe that the citizens of St. Peter will be best served by the local governing body by diversion of the storm water away from lake Hallett. This would be the most cost effective way to maintain the current water quality of Lake Hallett for generations to come. Diversion of the treated storm water could be done relatively easily and would be much less expensive then available lake restoration and maintenance techniques that will be needed if the lake continues to be used for storm water treatment.
Highlights from Past Projects