Mission Statement
Action Plan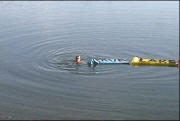 Save Lake Hallett! Learn how!

Bathometric Map of Lake Hallett.

Secchi Chart of Lake Hallett.

Lk Hallett Secchi Reading Video
256K Broadband Speed
100K Normal Speed
56K Dialup Speed.
Facts
Bathometric Map of Lake Hallett. courtesy of Gustavus Adolphus College Geography Department. This depth map illustrates the bottom contour of Lake Hallett. Geography students graphed random measurements of lake depth.
According to local historian "Mr. St. Peter", Bob Wettergren, the depth of Lake Hallett was some 60 feet deep in the 1930's. In the mid-1960's the Department of Natural Resources measured the maximum depth at 35 feet. In the year 2001 the maximum depth was measured by Gustavus Adolphus College geography students at 22 feet.
Secchi maps measure lake clarity.
This DNR Secchi map of Lake Hallett is available from the Minnesota Pollution Control Agency and Department of Natural Resources. Citizens can volunteer to collect lake and water quality data for the state of Minnesota. Please visit their website to learn how.
Watch the Lake Hallett Association video (bottom left) to see how a Secchi reading is performed. Secchi readings are a valuable assessment that can be used to measure long-term health of a lake.