Mission Statement
Action Plan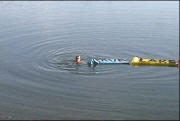 Save Lake Hallett! Learn how!
---
Area Lakes
• Lake Hallett
• Hiniker Pond
• Madison Lake
• Eagle Lake
---
Area Lakes
The Lake Hallett Association is dedicated to the protection and promotion of Lake Hallett as a recreational and aesthetic resource for the community and visitors of St. Peter and Southern Minnesota.
Water Clarity for Area Lakes July 24, 1999
Early 1990's Minnesota Statewide Water Clarity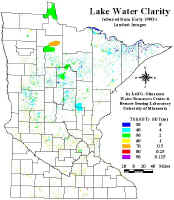 A Comparison of Some Area Lakes Support of Swimming from the Minnesota Pollution Control Agency Data
Fully Support - Few algal blooms and adequately high transparency exist to support swimming through the summer.
Lake Hallett
Lake Tetonka
Partial Support - Algal blooms and low transparency may limit swimming for significant portion of summer.
Madison Lake
Swan Lake
Lake Emily
Nonsupport - Severe and frequent algal blooms and low transparency will limit swimming for most of the summer.
Lake Washington
East Jefferson
Middle Jefferson
Swede's Bay
West Jefferson
Clear Lake
Lake Volney
Elysian Lake
Gorman
Eagle